Punch Preferidos , Edición Regional for 5THAvenue
时间:2019年04月29日16点28 作者:LCDH 来源:未知 点击: 次
Punch is one of the oldest Habanos brands. Don Manuel Lopez of Juan Valle & Co. founded the brand in the mid-19th Century, with a view to entering the profitable UK market. At that time, the eponymous satirical magazine enjoyed great successes there. The clown who represented the magazine, Mr Punch, is still depicted on every box, cigar in hand. His portrait is surrounded by illustrations of cigar making from the 19th Century that have survived virtually unchanged for a century and a half.

Following the discontinuation of certain Punch cigar lines in recent years, 5THAvenue has now selected a format of this traditional brand as an exclusive Edición Regional for the second time since 2012 (when the Punch "Sir John" was selected). It is called the "Preferido", which in Spanish means "darling of the public". The choice of name is no coincidence, since the "Montesco" format (with a length of 130 mm and a massive ring gauge of 55) caused a worldwide sensation as Romeo y Julieta Wide Churchill and immediately became the number one favourite of many aficionados. For the first time, this generous format will now be released with the medium-strength blend of the Punch brand.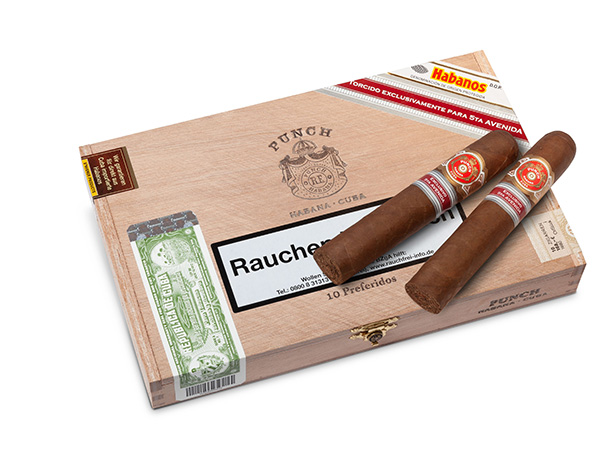 There will be only 10,000 boxes of 10 of these cigars, each one numbered individually. The cigars bear the second ring typical of the Ediciones Regional, with the imprint "Exclusivo 5ta Avenida", the Spanish name for 5THAvenue. They will be offered on all three markets in the sales region of the official sole importer for Germany, Austria and Poland.
These Habanos are coming from Vuelta Abajo * region, the home of the considered best world´s tobacco and have been produced by expert Cuban cigar rollers, according to the method exclusively used in Cuba to date, " Totalmente a Mano ".
Format and Price:
Punch Preferidos Edición Regional 2018
Format: Montesco; Dimensions: 130 mm x RM 55
Packaging: Natural wood box of 10 cigars each
Retail price per cigar 16.80 euros