Habanos, S.A. bets on Duty Free and Travel Retail, and launches its new specialty Romeo y Julieta Wide Churchills at the Habanos Premier virtual event.
Once again this year, Habanos, S.A. bets on Duty Free and Travel Retail, channels that have suffered greatly from the Pandemic, but which in recent years accounted for more than 30% of Habanos sales worldwide. The traveler and the aficionado find in these channels a very good opportunity to have a very special product either to enjoy it or to buy a perfect gift for Habanos enthusiasts of luxury, lifestyle and pleasure.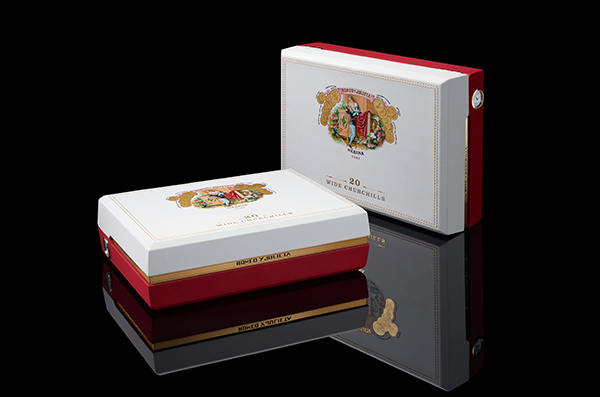 Leopoldo Cintra González, Commercial Vice-President, and José María López Inchaurbe, Development Vice-President of Habanos, S.A., believe that "all the products designed for travelers will help to recover the performance in the DF & TR Channels, and of course the Habanos are and will be one of them. The success of the 14 special editions launched so far in these Channels proves it. Brands such as Montecristo, with which we inaugurated this specialty, Cohiba, Partagás, H. Upmann and Trinidad, among others, enjoyed all enthusiasts' travelers of luxury, travels and the Habanos".
Habanos, S.A. once again surprised its enthusiasts around the world with a new virtual event, Habanos Premier, in which it presented the special launching of this year for the Duty Free and Travel Retail channels: Romeo y Julieta Wide Churchills.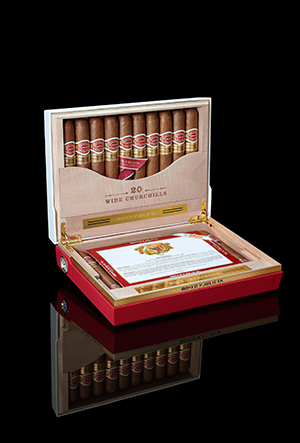 A novel, elegant and practical humidor with 20 Romeo y Julieta Wide Churchills (55 ring gauge x 130 mm length ), a vitola which was incorporated to the brand's portfolio in 2010 and has become a flagship for Habano enthusiasts.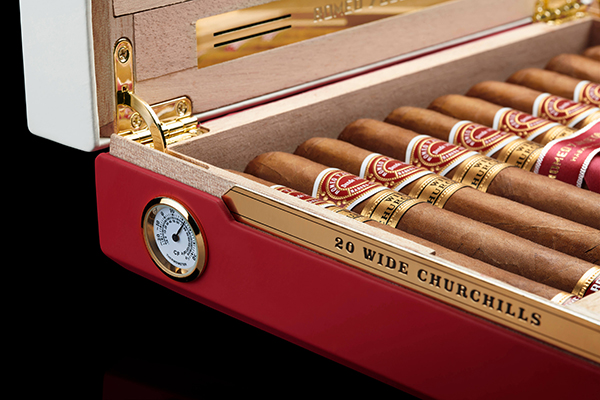 Romeo y Julieta Wide Churchills is presented to the market as an excellent travel accessory, especially conceived for those smokers who enjoy thick ring gauge Habanos and are looking for a Habano of medium strength, excellent combustibility and balanced aroma.
These 20 Habanos have been made " Totalmente a Mano con Tripa Larga -Totally Handmade with Long Filler", with leaves selected from the Vuelta Abajo * zone, in Pinar del Río * region, where the considered world's best tobacco is grown. Its balanced and aromatic blend makes Romeo y Julieta the classic medium strength Habano.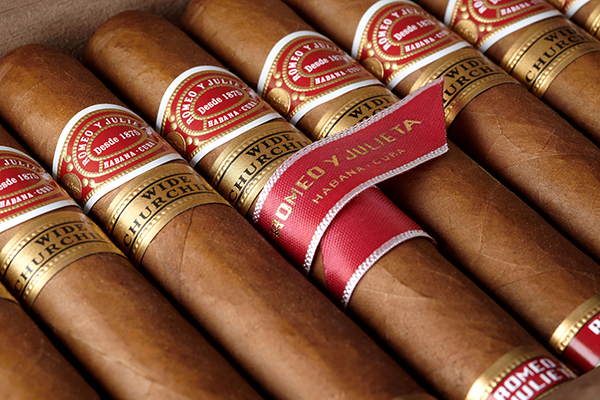 The name of Romeo y Julieta brand emerged in 1875, rooted in the literary tragedy of the same name by English writer William Shakespeare. Today, it enjoys a great international prestige and features one of the widest range of Habanos vitolas.Winston Churchill was one of the brand's most devoted smokers. Since his visit to La Habana in 1946, his name was used on some rings and gave name to the brand's best-known vitola: Churchills.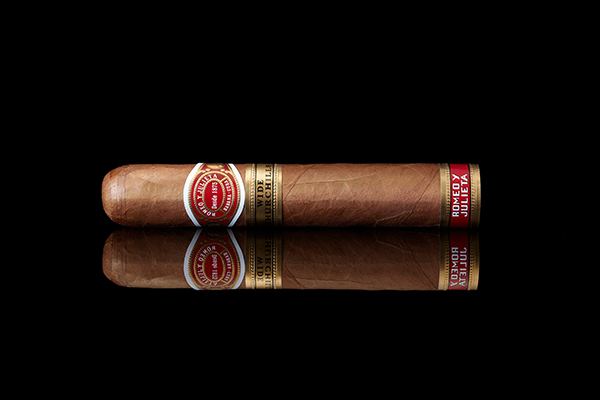 Tasting Notes
Romeo y Julieta Wide Churchills
Factory name: Montesco, 55 ring gauge and 130 mm length.
Natural colored wrapper with very few oily veins and shiny.
Vanilla and hazelnut flavor, with slight bitterness that highlights its roasted nuances.
Cold aroma from foot with herbal and dried fruit expressions with subtle woody notes.
Medium strength leaning towards medium to full strength. Really a Habano not to forget.
Excellent combustion and harmonic and easy draft providing a very wide and creamy puff, homogeneous combustion ring giving compact light gray ash with medium gray tips.
Smoking time about 1 hour. A perfect smoke with great balance and rich in aromas.
Habanos, S.A. Corporation
Habanos, S.A. Corporation is a world leader in the commercialization of Premium cigars both in Cuba and in the rest of the world. For this purpose, it has an exclusive distribution network present in the five continents and in more than 150 countries.
Habanos, S.A. commercializes 27 Premium brands made Totally Handmade and protected by the Protected Appellation of Origin (P.A.O.), among which stand out Cohiba, Montecristo, Romeo y Julieta, Partagás, Hoyo de Monterrey and H. Upmann, among others. Habanos have been made Totally Handmade for more than 500 years and, since then, they have become a worldwide flagship.