Habanos, S.A. grabbed countless recognition at the Inter-tabac. The fair which was held September 21st to 23rd, 2018 in Dortmund, Germany.
Inter-Tabac is considered the most important tobacco fair in Europe. This 2018 edition was the most important meeting place in the tobacco´s world which a participation of 625 exhibitors from around 54 countries and in the same Cuban tobacco once again marked its highest quality.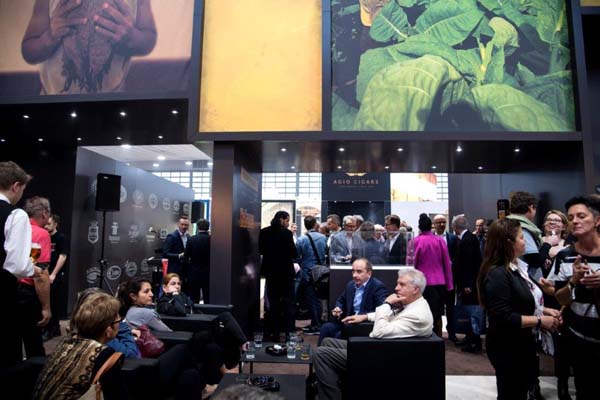 At the Habanos, S.A. and Fifth Avenue Products stand, visitors could see the new launchings of Habanos , S.A. for 2018 such as Cohiba Reserva Cosecha 2014, (50 ring gauge x 124mm length) with its vitola Robustos, one of the most popular sizes within the Habanos portfolio, Partagás Maduro presenting two new vitolas Partagás Maduro No. 2 (55 ring gauge x 120mm length) and Partagás No. 3 (55 ring gauge x 125 mm) which along with Partagás No.1 put together the new Línea of Partagás. Le Hoyo de Río Seco (56 ring gauge x 140mm length) a new heavy ring gauge vitola that is incorporated into the Le Hoyo series, as well as the new products produced in exclusive for la Casa de Habano and Habanos Specialists, like Prado (50 x 127mm), in San Cristóbal de la Habana brand and Hoyo de Monterrey Escogidos (49 x 180 mm), which also was launched last September 27th in Warsaw, Poland, one of the territories of the Distributor 5th Avenue Products Trading G.M.B.H.
The Regional Edition in Por Larrañaga brand, produced exclusively for 5th Avenue Products Trading G.M.B.H, was also tasted by the attendees at the Intertabac fair.
Internacional Cubana de Tabaco s.a. (ICT), Promocigar, Coiba s.a. the Cuban Embassy and Tabacuba were also present at the Fair, headed by Justo Luis Fuentes Díaz, President of the tabacuba and Inocente Núñez Blanco, Copresident of Habanos, S.A among other executives of Habanos, S.A and Tabacuba.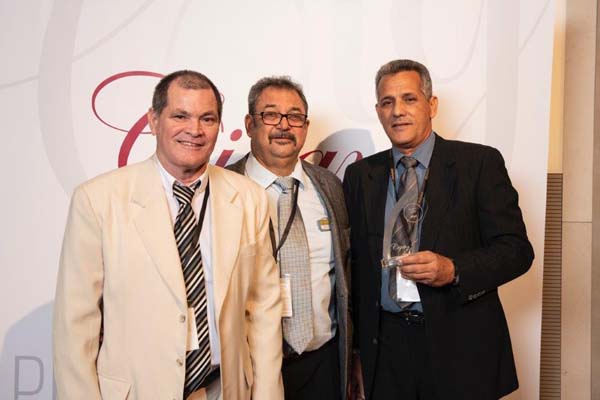 Several distributors and subdistributors from all around the world attended the fair on this occasion.
5th Avenue Products Trading G.M.B.H, Habanos' Exclusive Distributor for Germany, its President Mr. Heinrich Villiger gave the 2018 award to the Best Habanos Specialist of the Year in their territory, to Mr. Mirko Pettene, manager of Max Zechbauer Tabakwaren shop, Munich.
Habanos, S.A. received new awards during the fair:
Inter-Tabac Fair is an important event that continues growing year after year, and has become a relevant quote in the annual calendar for the presentation and recognition of Habanos releases.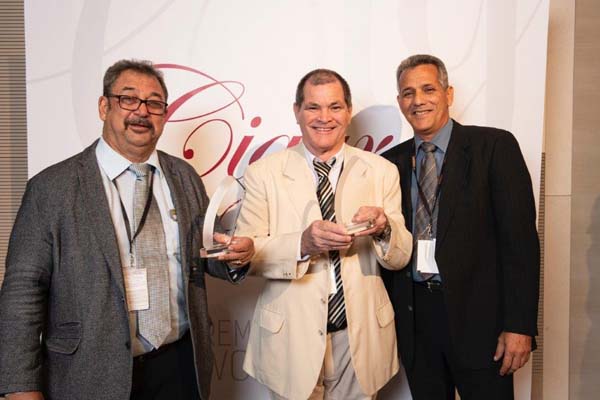 The award ceremony was attended by Mr. Inocente Núñez Blanco, Copresident of Habanos, S.A., Mr. Justo Luis Fuentes President of Tabacuba, and Antonio de Dios General Director of 5th Avenue Products, Exclusive Habanos Distributor in Germany.